Fru Skagerraks musik tar dig med på en resa genom Skandinavien; från lågland till bergen, från långsamma melodier till brusande polskor, i dur och i moll, och allt däremellan. Fru Skagerrak består av tre musikere – en fra hvert av de skandinaviske landene: Maja Kjær Jacobsen fra Danmark, Elise Wessel Hildrum fra Norge og Anna Lindblad fra Sverige.
De tre musikalske globetrottere mødte hinanden for første gang i 2011 på Tønder Festival, Danmarks største folk festival, hvor backstagebaren var én stor jam session. Genom kaoset av låtar kunde ett tydligt skandinaviskt groove höras, och i det ögonblicket var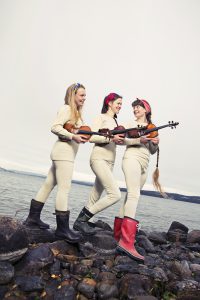 vänskapen mellan dessa tre spelmän ett faktum. De fortsatte å møtes på Tønder Festival i tre år til og i 2014 så "Fru Skagerrak" endelig dagens lys.
Fra hvert deres land tilfører Maja, Elise og Anna en del af de mange forskelligartede traditioner som findes omkring Skagerrak. Genom en repertoar av traditionella melodier, nya kompositioner och sånger på deras olika språk, uttrycker de sitt släktskap och kärleken till deras gemensamma arv. Resultatet er en eksplosjon av de spennende aspektene som finnes i Skandinavisk folkemusikk i dag.
Fru Skagerraks selvbetitlede debutalbum blev udgivet i maj 2016, och uppföljaren "Ankerdram" utgavs i april 2018.
Fru Skagerrak är:
~ Anna Lindblad (Sverige): Fiol, 5-strängad fiol, sång
(LYY (S) och Anna Lindblad Trio)
~ Elise Wessel Hildrum (Norge): Fiol, flöjt, viola och sång
(Gudbrandsdølenes Spelemannslag (NO))
~ Maja Kjær Jacobsen (Danmark): Fiol och sång
(Maskineri, Maja Kjær Jacobsen Kvartett)
—
The music of Fru Skagerrak takes you on a journey through Scandinavia; from lowlands to mountains, from slow airs to lively polkas, in major and in minor, and everything in between. Fru Skagerrak- "Lady Skagerrak" – are three master musicians – one from each Scandinavian country: Maja Kjær Jacobsen from Denmark, Elise Wessel Hildrum from Norway and Anna Lindblad from Sweden.
In 2011, these three globetrotting musicians met for the first time at Tønder Festival, Denmark's biggest Folk Festival, in a roaring session that had engulfed the backstage bar. Through the mayhem of tunes you could feel a certain Scandinavian groove, and in that moment the connection between these three fiddlers was clear. After meeting at Tønder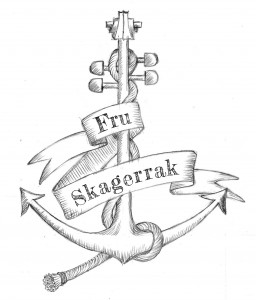 Festival for three consecutive years, Fru Skagerrak finally saw the light of day in August 2014.The trio brings together the diverse traditions from each of their homelands, which surround the Skagerrak strait. Through a repertoire of traditional tunes, new compositions, and songs in their respective languages, they express their kinship and love of their shared heritage. The result is an explosion of the sounds that exist in Scandinavian music today.
The self-titled debut album was released in May 2016, and their second album "Ankerdram" was released in April 2018.

Fru Skagerrak is:
~ Anna Lindblad (Sweden): Fiddle, 5 -stringed fiddle and song

(also known from LYY (S), Folk All-in Band (SE))
~ Elise Wessel Hildrum (Norway): Fiddle, recorder, viola and song
(also known from Maskineri, and Maja Kjær Jacobsen Kvartett)