Maja Kjær Jacobsen, Danmark – Denmark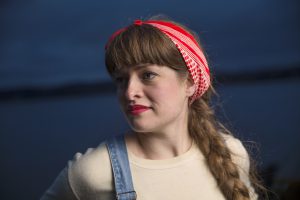 Maja Kjær Jacobsens violinspil og sang er virtuost og intenst. Hun har rejst og optrådt i mange forskellige lande, hvor fremførelsen af hendes "hjertebarn", den eksotiske klingende midtjyske musik og smukke sange på dialekt, har vækket opmærksomhed blandt såvel publikum som anmeldere. Hendes egne kompositioner udstråler en særlig kraft, og hun formår at frembringe helt filmiske lydbilleder af såvel hendes sarte små melodier som hendes rå og betagende reels. Inspirationen kommer direkte ud af opvæksten i et hjem hvor mange forskellige musikgenrer havde deres faste klang gennem huset.
Maja har en Mastereksamen i Folkemusik fra Syddansk Musikkonservatorium i Odense (DK), og spiller ud over Fru Skagerrak i duoen Maskineri med guitarist Søren Vinther Røgen, Maja Kjær Jacobsen Trio som tager swingende hånd om den Midtjyske sangtradition, i violinduoen Maja & David (sammen med violinst og foot-tapper, og medlem af La Bottine Souriante, David Boulanger fra Québec i Canada) og bal-orkestret Midtjysk Medicin. Maja underviser også i violin, sang og dans på kurser og workshops, og arbejder i øjeblikket på at udgive en nodebog med musikken fra hendes hjemegn.
The fiddle playing and singing of Maja Kjær Jacobsen is beautiful and intense. She has travelled and performed in many different countries, performing her "darling", the exotic sounding traditional music and gorgeous songs of Central Jutland in Denmark, and it has caught the attention of her audiences as well as many critics. Her own compositions radiate a special power, and she can bring out cinematic soundscapes from both her more delicate tunes as well as the raw and breathtaking reels. The inspiration for her tunes comes from an upbringing where many different musical genres rang regularly through the house.
Maja has a Masters degree in Traditional Music from the Academy of Music, Southern Denmark in Odense (DK), and besides Fru Skagerrak she plays in the duo Maskineri with guitarist Søren Vinther Røgen, her own Maja Kjær Jacobsen Trio where she presents swinging versions of songs of Central Jutland (DK), in the fiddle duo Maja & David (with Québec fiddler and foot-tapper, and a member of La Bottine Souriante, David Boulanger) and the dance orchestra Midtjysk Medicin. Maja also teaches fiddle, singing and dancing, and she is currently working on publishing a tune book with music from her home area.
…
Anna Lindblad, Sverige – Sweden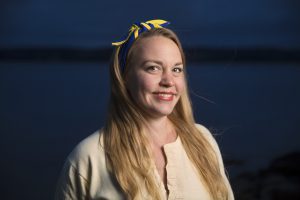 Anna Lindblads kraftfulla fiolspel är fyllt av sväng, glädje och närvaro och med det har hon charmat publiken på många festivaler och turnéer runt om i världen. Hon är lika gammaldags som hon är innovativ och med respekt för traditionen för hon sin musik framåt in i nutiden. Genom att smälta samman alla hennes musikaliska intressen får hon en ton som bara är hennes egen. Med stor passion för den svenska traditionen är hon inte rädd att utforska andra sätt att uttrycka sig musikaliskt. Förutom svensk folkmusik kan man också höra Anna riva av en reel från Quebec eller Irland, eller en svängig old-timelåt, alltid med en smittande spelglädje.
Anna har en Masterexamen inom Svensk folkmusik från Kungliga Musikhögskolan i Stockholm och spelar i band så som svenska folkpopbandet LYY, Anna Lindblad Trio (med Ryan Drickey och Anders Löfberg), samt svenska folkstorbandet Folk All-in Band (FAB). Anna är också en flitigt anlitad spelman till dans- och fiolkurser.
Anna Lindblad is a versatile fiddler from Sweden. Her powerfull fiddle playing is steeped in groove, joy and presence. Anna is just as oldfashioned as she is innovative and with a nod to the tradition she brings her music forward, blending all her diverse musical interests into a very special voice that's all her own. With a heart beating for Swedish tradition she is not afraid to mix it up with other musical ways of expression. Besides her Swedish fiddling she also plays Québecois, Irish and Old-time, always with a smile and a contagiously positive attitude and spirit.
Anna has a Master's degree in Swedish traditional music from the Royal College of Music in Stockholm, and is a member in Swedish folk pop band LYY, Anna Lindblad Trio (with Ryan Drickey and Anders Löfberg), and Swedish folk big band Folk All-in Band (FAB). Anna is also frequently playing for traditional dancers and teaches fiddle classes both at home and at different workshops and camps.
…
Elise Wessel Hildrum, Norge – Norway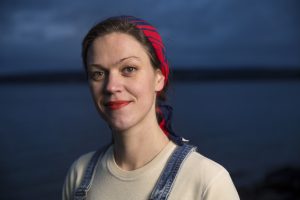 Elise Wessel Hildrum er en av ganske få norske folkemusikkfløytister. Hun vokste opp med å spille klassisk musikk, men i en alder av 20 år "oppdaget" hun folkemusikken, og valgte deretter å fokusere utelukkende på denne sjangeren. Som blokkfløytist i Norge falt det seg naturlig å ta til seg "sjøfløyte"-repertoaret fra Numedal, og dette kjernerepertoaret har fulgt henne gjennom flere år med folkemusikkstudier. Hun studerte to år i Rauland, og fire år på Norges Musikkhøgskole som den eneste noensinne med fløyte som hovedinstrument. Hun har vært på utveksling til både Malmö (SE) og Newcastle (UK) og har to ganger vunnet fløyteklassen på Landskappleiken (norsk mesterskap i folkemusik og -dans). Elise spiller også fele, noe som for det meste har vært til sosialt bruk. På festivaler i inn- og utland kan hun ofte finnes i midten av jammen med gamle og nye venner.
Etter hun var ferdig på musikkhøgskolen har hun jobbet en del som fløyte- og felelærer, både på kurs og seminarer og med privatelever, bl.a. på Norges Musikkhøgskole. Ved siden av har hun tatt deltidsstudier i forskjellige språk ved Universitetet i Oslo.
Elise Wessel Hildrum is one of quite few norwegian folk fluteplayers. She grew up playing mostly classical music, but "discovered" the world of folk music at the age of 20 and decided that this was what she wanted to play. As a recorder player it was natural for her to learn the norwegian "sjøfløyte" (sea-flute) tradition from Numedal. This has been the core of her repertoire through several years of folk music studies. She studied for two years in Rauland, four years at the Norwegian Academy of Music (as the only one to date to have done a folk music performance degree on the flute), she has been on exchange programmes to both Malmö (Sweden) and Newcastle (UK) and twice she has won the flute category in the national folk music competition. Elise also plays the fiddle, mostly for fun and in social settings. She can often be found in the middle of a jam session at festivals both at home and abroad.
After finishing her folk music degree, Elise has been working as both flute and fiddle teacher, both at workshops and seminars and with private pupils, even at the Academy of Music in Oslo. In addition to this she has been studying languages part time at the University of Oslo.